The mission of RASE Inc. is to support and enhance recreational and fitness activities through development of innovative products, distribution of equipment and supplies, and creating or sponsoring recreational, fitness, or competitive events.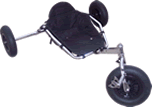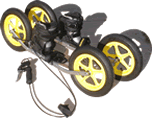 RASE Inc. is who?
We are the international distributor of Rockville All-Terrain Sports products, such as Rockville Street Feet and Rockville Ranger, we are happy to be of service to you in supplying quality products at a reasonable price. With the increase of interest in kite skating or kite blading, we are on the cutting edge of product development for the industry. We also do OEM (Original Equipment Manufacturing) in this industry for individuals and companies. We are also the North American distributors of skateboard products and accessories for X-Zone Technologies.
Kite Skating/Blading
Catch the wind and love the ride. This growing sport of land kiting is ready for an explosion. During the next couple of years we see a tremendous growth opportunity in this field and we want to be on the leading edge of the trend with new products to satisfy the expert and to encourage the entry level beginner.
Skijouring
Skijouring is a practical sport for the adventurous dog lover. With a single dog, or dog team as the propelling force, individuals are enjoying vigerous rides on their All-Terrain Skates. Though small, we believe that skijouring is also a growing activity that needs support and encouragement. We are in development on a skate that will cater to the needs of the dog team world.
We Love Skate Parks
We want to link to skate park info sites. When I owned a waterslide and skate park, I learned a few things about running a skate park. The more people who can find you, the better! One of the best is www.skatepark.org
A good Canadian parks list can be found at www.churf.com
If you have any skate info, let us link to your site. e-mail us

"I love skating! It is fun, and as a skating rink owner I get to share this love with my community. Like so many other sports, however, roller sports are too often tossed aside when those who really love the sport grow past the 'social' age. Not that they dislike skating or boarding, it becomes an issue of where do I skate and with whom. What could be a life-long hobby is given up. Golf, bowling, and running are sports that are enjoyed at any age, then why not skating? RASE (Race Association of Skaters Etc.) is just the vehicle needed to encourage athletes to enjoy the world of roller sports throughout their lives."
- RASE President Jef Anderson